A New Similan Island Diving Schedule For Manta Queen 5
Manta Queen 5 now visits the top scuba diving sites in the North Andaman. Previously the schedule took in 3 night trip just around the nine Similan Islands. Well you can't really go all that way without visiting Koh Bon, Koh Tachai and Richelieu Rock. The new 4 day/4 night schedule reflects just that. Manta Queen 5 now covers all the very best dive sites at a great price.
The 26m long, 5m long Manta Queen 5 takes just 22 guests in very comfortable accommodation. There's no en-suite cabins but there's plenty of toilets and showers on the boat and all cabins are air conditioned. The common areas have plenty of space, the sundeck, shaded sundeck and open air dining areas are all great places to hang out between dives.
The plentiful and delicious food is served buffet style as standard for most Similan Island liveaboards. Snacks and fresh fruit are available between dives, making sure you're fuelled up for some exhilarating North Andaman diving.
ItinerarySafety & LayoutIncludes/ExcludesSpecial Offers
Price per Person
Similan – Richelieu Rock 4 Day/4 Night:
Twin Cabin Diver THB 19,900
Twin cabin Snorkeler THB 18,900
*Not Including National Park Fees THB 1,800
Equipment THB 1,600
VAT 7%
Schedules 2020 – 2021
*Trips Highlighted in Red are Already FULLY BOOKED!
October
| Trip No. | Depart | Return | Destination | Dives |
| --- | --- | --- | --- | --- |
| MQ5#286 | 26th Oct 20 | 30th Oct 20 | Thailand – Similan – Richelieu | 15 |
| MQ5#287 | 31st Oct 20 | 04th Nov 20 | Thailand – Similan – Richelieu | 15 |
November
| Trip No. | Depart | Return | Destination | Dives |
| --- | --- | --- | --- | --- |
| MQ5#288 | 05th Nov 20 | 09th Nov 20 | Thailand – Similan – Richelieu | 15 |
| MQ5#289 | 10th Nov 20 | 14th Nov 20 | Thailand – Similan – Richelieu | 15 |
| MQ5#290 | 15th Nov 20 | 19th Nov 20 | Thailand – Similan – Richelieu | 15 |
| MQ5#291 | 20th Nov 20 | 24th Nov 20 | Thailand – Similan – Richelieu | 15 |
| MQ5#292 | 25th Nov 20 | 29th Nov 20 | Thailand – Similan – Richelieu | 15 |
| MQ5#293 | 30th Nov 20 | 04th Nov 20 | Thailand – Similan – Richelieu | 15 |
December
| Trip No. | Depart | Return | Destination | Dives |
| --- | --- | --- | --- | --- |
| MQ5#294 | 05th Dec 20 | 09th Dec 20 | Thailand – Similan – Richelieu | 15 |
| MQ5#295 | 11th Dec 20 | 15th Dec 20 | Thailand – Similan – Richelieu | 15 |
| MQ5#296 | 16th Dec 20 | 20th Dec 20 | Thailand – Similan – Richelieu | 15 |
| MQ5#297 | 21st Dec 20 | 25th Dec 20 | Thailand – Similan – Richelieu | 15 |
| MQ5#298 | 26th Dec 20 | 30th Dec 20 | Thailand – Similan – Richelieu | 15 |
| MQ5#299 | 30th Dec 20 | 03rd Jan 21 | Thailand – Similan – Richelieu | 15 |
| Trip No. | Depart | Return | Destination | Dives |
| --- | --- | --- | --- | --- |
| MQ5#300 | 04th Jan 21 | 08th Jan 21 | Thailand – Similan – Richelieu | 15 |
| MQ5#301 | 09th Jan 21 | 13th Jan 21 | Thailand – Similan – Richelieu | 15 |
| MQ5#302 | 14th Jan 21 | 18th Jan 21 | Thailand – Similan – Richelieu | 15 |
| MQ5#303 | 19th Jan 21 | 23rd Jan 21 | Thailand – Similan – Richelieu | 15 |
| MQ5#304 | 24th Jan 21 | 28th Jan 21 | Thailand – Similan – Richelieu | 15 |
| MQ5#305 | 29th Jan 21 | 02nd Feb 21 | Thailand – Similan – Richelieu | 15 |
February
| Trip No. | Depart | Return | Destination | Dives |
| --- | --- | --- | --- | --- |
| MQ5#306 | 03rd Feb 21 | 07th Feb 21 | Thailand – Similan – Richelieu | 15 |
| MQ5#307 | 08th Feb 21 | 12th Feb 21 | Thailand – Similan – Richelieu | 15 |
| MQ5#308 | 13th Feb 21 | 17th Feb 21 | Thailand – Similan – Richelieu | 15 |
| MQ5#309 | 18th Feb 21 | 22nd Feb 21 | Thailand – Similan – Richelieu | 15 |
| MQ5#310 | 23rd Feb 21 | 27th Feb 21 | Thailand – Similan – Richelieu | 15 |
| MQ5#311 | 28th Feb 21 | 04th Mar 21 | Thailand – Similan – Richelieu | 15 |
Book This Trip Now: contact us
March
| Trip No. | Depart | Return | Destination | Dives |
| --- | --- | --- | --- | --- |
| MQ5#312 | 05th Mar 21 | 09th Mar 21 | Thailand – Similan – Richelieu | 15 |
| MQ5#313 | 10th Mar 21 | 14th Mar 21 | Thailand – Similan – Richelieu | 15 |
| MQ5#314 | 15th Mar 21 | 19th Mar 21 | Thailand – Similan – Richelieu | 15 |
| MQ5#315 | 20th Mar 21 | 24th Mar 21 | Thailand – Similan – Richelieu | 15 |
| MQ5#316 | 25th Mar 21 | 29th Mar 21 | Thailand – Similan – Richelieu | 15 |
| MQ5#317 | 30th Mar 21 | 03rd Apr 21 | Thailand – Similan – Richelieu | 15 |
Book This Trip Now: contact us
April
| Trip No. | Depart | Return | Destination | Dives |
| --- | --- | --- | --- | --- |
| MQ5#318 | 04th Apr 21 | 08th Apr 21 | Thailand – Similan – Richelieu | 15 |
| MQ5#319 | 09th Apr 21 | 13th Apr 21 | Thailand – Similan – Richelieu | 15 |
| MQ5#320 | 14th Apr 21 | 18th Apr 21 | Thailand – Similan – Richelieu | 15 |
| MQ5#321 | 19th Apr 21 | 23rd Apr 21 | Thailand – Similan – Richelieu | 15 |
| MQ5#322 | 24th Apr 21 | 28th Apr 21 | Thailand – Similan – Richelieu | 15 |
| MQ5#323 | 29th Apr 21 | 03rd May 21 | Thailand – Similan – Richelieu | 15 |
Book This Trip Now: contact us
May
| Trip No. | Depart | Return | Destination | Dives |
| --- | --- | --- | --- | --- |
| MQ5#324 | 05th May 20 | 09th May 20 | Thailand – Similan – Richelieu | 15 |
Book This Trip Now: contact us
Popular Services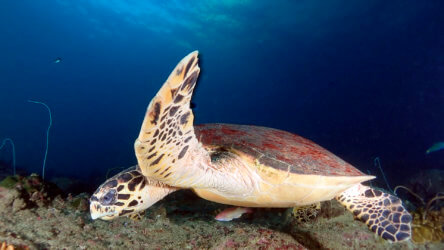 Phi Phi Island & Shark Point – Dive Tour
It might not sound like fun to be surrounded by 10 - 15 Black Tip Reef Sharks, but until you've done it, you won't understand the thrill and the excitement that scuba diving at Phi Phi's Palong Wall can bring. Some of the dive sites there are absolute mecca's for Black Tips, and another one of our favourite dive sites, 'Turtle Rock' is a home for hungry Hawksbills, many of them very unperturbed by divers so they make for great muses for photo [...]
Find Out More
MV Dolphin Queen
The MV Dolphin Queen is a 3 decked wooden mono hulled boat that runs a few trips every liveaboard season to the remote and exciting diving in Myanmar. The well oiled crew have been doing this for a long time and make this special trip and all it's logistics run like clockwork. 22 guests are comfortably accommodated in a mix of air-conditioned cabins to suite all budgets. The main deck has 2 double bed, 1 twin and 3 quad share cabins. The [...]
Find Out More
Daily Schedules
Jobs @ Local Dive Thailand
Local Dive Thailand is one of Phuket's fatest growing & most vibrant scuba diving operations, we are always looking for quality staff to join us, so feel free to have a look at our jobs listing page.

Job Listings